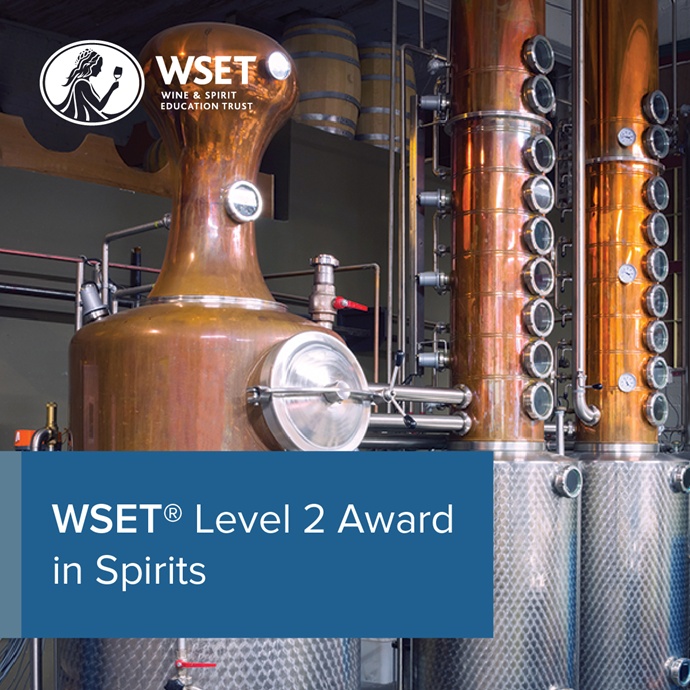 The WSET Level 2 Award in Spirits is intended for people who have little or no prior knowledge of spirits. It is intended to provide a comprehensive level of focused product knowledge required to underpin job skills and competencies – for example, in bar service, and for staff requiring focused
product knowledge in retail and wholesaling businesses.
Successful candidates will be able to give information on the characteristics of the principal spirits and aromatised wines as well as their methods of production. They will confidently provide
guidance on the use and service of spirits and make informed recommendations to customers
when selecting spirits and liqueurs to meet their taste and price requirements.
※

※ This course will be conducted in English ONLY
How does the online/classroom hybrid course work?
The online lessons will be held through「Zoom」by Zoom Video Communications. A URL link will be sent in advance of each lesson, by clicking the URL the participants will be able to attend the seminar.

The lessons can be enjoyed by PC, Smartphone, Tablet as long as they are connected to the internet. For PC you can use the internet browser, but installing the dedicated Zoom software is recommended. For smartphones and tablet you will need the Zoom app. Please install it in advance.

The last session of the course will take place at Caplan and will include a thorough tasting of over 20 different spirits from the regions studied during the previous months.
The exam will NOT be online, it will be a classic classroom exam. The date is specified on the schedule at the bottom of the page, the time will be communicated during the course.
・Broadband internet connection (4G/LTE, fiber)
・Speaker or earphones
・Supported OS:Windows 7 and following, Mac OS X 10.7 and following, iOS, Android
・Supported browsers: IE7+, Firefox, Chrome, Safari 5+
・CPU: Dual Core 2Ghz and above
・Memory: 4GB
1 - Online
60 minutes

An Introduction to Tasting Spirits

2 - Online
90 minutes

Key Principles in Spirits Production

3 - Online
90 minutes
4 - Online
90 minutes
5 - Online
90 minutes
6 - Online
90 minutes

Vodka, Flavoured Spirits and Aromatised Wines

7 - Online
90 minutes

An Introduction to Spirits Service and Cocktails

8 - Classroom
300 minutes

Tasting and review session
Over 20 different spirits will be tasted

10 - Classroom
Lecturer
Seating Capacity
Place

Theory: online / Tasting: Tokyo Aoyama classroom

PASONA SQUARE bldg. 16F, 3-1-30 Minamiaoyama, Minato-ku, Tokyo
Fee

89,100 yen (materials included, after tax) <Price excluding tax: 81,000 yen>

※

To be paid within three days after course application.

※

Includes spirits, textbook and examination fee

※

Students attending for the first time a course at CAPLAN Wine Academy need to pay 5,500 yen for registration, tax included.
How to pay

Bank transfer or Credit card

Please transfer the fee to the bank account below or we can accept the credit card.

Mitsubishi UFJ Bank
Tokyo Eigyoubu Branch
Account Number : Futsu 1812074
Subscriber : CAPLAN Corporation

Please note that we cannot refund the fee once you pay.
Please make sure bear the bank remitting charges concerned with yourself.
Online/Tokyo Class
Ettore Donadeo

Session 1【ONLINE】:10/6※
Session 2【ONLINE】:10/20
Session 3【ONLINE】:10/27
Session 4【ONLINE】:11/10
Session 5【ONLINE】:11/17
Session 6【ONLINE】:11/24
Session 7【ONLINE】:12/1

Tasting day【CLASSROOM】
12/11(SUN) 11:00~17:00
(Including 1 hour lunch break)

Examination:1/26 (19:00~)

※Session 1 will be 60 minutes long: 13:30~14:30

Please call us for entry.(03-6634-9976)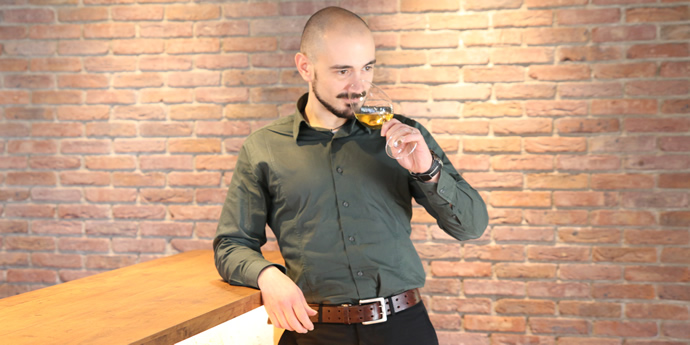 Wine Scholar Guild Bourgogne Master-Level